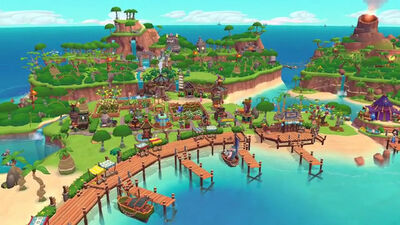 This is your island Trademaster, here is where you grow and harvest crops, place and use mills, as well as trade with islanders and merchant ships. You can also customize your island to your liking.

Tip:
Daily chest randomly appear all over your island, so be sure to check behind trees and other objects so you don't miss them!
There is a cave on your island that requires a

Powder Keg to open. It is a part of the storyline and unlocks Clara.
The eastern part of your island - the area populated with volcanoes - is currently unavailable but is assumed to be an eventual expansion of the game.
Guide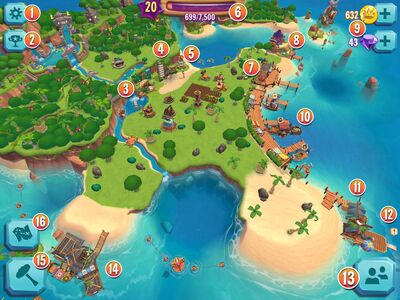 1) Settings Menu - Quick access to in-game settings, support, and our Paradise Bay forums!
2) Achievements - View your Achievements.
3) Tree House Storage - Holds resources and goods.
4) Trade Post - Fulfill trade requests from islanders here.
5) Windmill Storage - Holds all harvested crops.
6) Experience Bar - Displays your XP level and progress.
7) Wesley's Exports - Sell your goods to other players for Coins. (Unlocks at level 6)
8) Bazaar - Unlock recipes for trade goods and exclusive decorations! (Unlocks at level 15)
9) Gems and Coins - Get more Gems and Coins, and view your balance.
10) Docks - Fulfill trade orders with merchant captains and earn rewards! (Unlocks at level 10)
11) Seal House - Earn rewards for assisting with your friend's dives. (Unlocks at level 20)
12) Treasure Site - Send your seal to dive for treasure! (Unlocks at level 20)
13) Friend menu - Visit your friends' islands and assist with their dives!
14) The World Market - Buy goods from other players at The World Market! (Unlocks at level 12)
15) Build menu - Use this menu to purchase and build all your island's mills, harvesters, and decorations!
16) Map - The Map button allows you to quickly access your World Map. (Unlocks at level 17)

Island map with regions to unlock and their costs (click to expand) :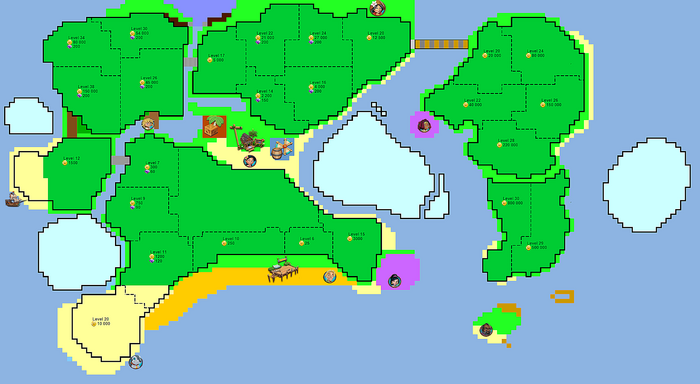 Ad blocker interference detected!
Wikia is a free-to-use site that makes money from advertising. We have a modified experience for viewers using ad blockers

Wikia is not accessible if you've made further modifications. Remove the custom ad blocker rule(s) and the page will load as expected.