Unlock this island to make a wish at the Croaking Spring.
The spring grants wishes for tokens. Make a wish.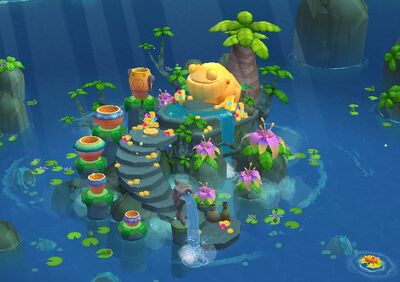 Available with version 2.5.0 of the game (released May 18th)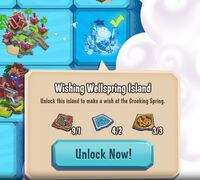 Creating Wish Tokens
On this island you will find 5 wishing jars

,

,

,
,
.
Drop a dye into a jar to create a Wish Token :
The jars reward you with XP

each time you fill them:
You will have to wait 1 hour before being able to make another Wish Token in the same jar. Or rush for 7x
.
Making A Wish at the Croaking Spring
A golden frog

grants wishes in exchange for tokens! Tap on the frog to open the Wish menu. When you have enough Wish tokens you can give them to the frog in exchange for a wish:
Wish
No. of Tokens
4
3
2
1
1
2
2
1
1
3
5
Wish of Exploration
Maps to distant islands await those curious enough to make this wish.

Wish of Fortune
Gold or gems await those daring enough to make this wish.

Wish of Fate
A wish for those unsure what to wish for.

Wish of Wisdom
Experience or expansion await those wise enough to make this wish.

Wish of Friendship
A parcel of pets await those who are caring enough to make this wish.

Cost : 5x Ruby Token

Rewards :
55% chance of Bronze Chest (1 sticker)
22% chance of Gold Chest (3 stickers)
5,5% chance of Epic Chest (7 stickers)
1,1% chance of 2 Epic Chests (14 stickers)
16,5% chance of 2 - 5 Primo Pet Treats

You will have to wait 48 hours for the frog to grant your wish.
When your wish is ready, on the frog's tongue, tap the frog to collect your rewards!
Ad blocker interference detected!
Wikia is a free-to-use site that makes money from advertising. We have a modified experience for viewers using ad blockers

Wikia is not accessible if you've made further modifications. Remove the custom ad blocker rule(s) and the page will load as expected.