Helps you through the holiday.
This turkey may be a little wild but he's still friendly.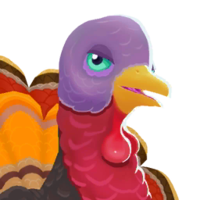 How to get
Tier 7 prize for the Nov 2016 TradeFest.
Info
Other TradeFest prizes included new decorations Cornucopia Decor 
and Turkey Kite 

.
Feeding, Rewards, Level
You can feed this pet with 1 Pineapple 

or Primo Pet Treats 

and you will receive a reward.
Possible rewards
In addition with pet's specific rank reward, see here : Pet reward chart

See here Pets and here Pet Sanctuary for all info on nap time, feeding, rewards and more.

Ad blocker interference detected!
Wikia is a free-to-use site that makes money from advertising. We have a modified experience for viewers using ad blockers

Wikia is not accessible if you've made further modifications. Remove the custom ad blocker rule(s) and the page will load as expected.