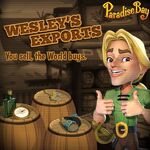 Want to earn extra coins and free up storage space?
With help from Paradise Bay's own gentleman pirate, you can sell goods at Wesley's Exports!
Remember! Items offered for higher prices take longer to sell. Always create sales based on your resource and time constraints.
Quote from: http://paradisebaygame.com/#/
Guide
Creating a Sale: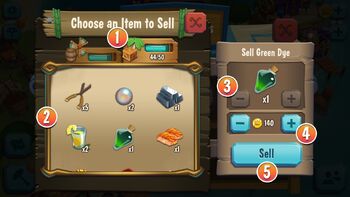 1) Choose Windmill or Treehouse storage.
2) Choose the item you'd like to sell.
3) Choose the quantity you'd like to sell.
4) Choose the price you'd like to sell for.
5) Place your sale.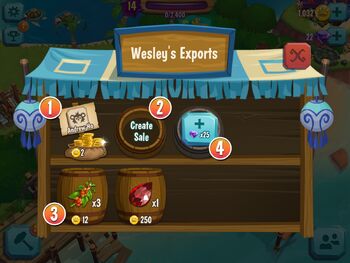 1) A completed sale ready to be collected—tap to collect coins.
2) Create a new sale.
3) A created sale awaiting a buyer (to view the cancel price, tap the sale).
4) Purchase another "Create Sale" slot.

Ad blocker interference detected!
Wikia is a free-to-use site that makes money from advertising. We have a modified experience for viewers using ad blockers

Wikia is not accessible if you've made further modifications. Remove the custom ad blocker rule(s) and the page will load as expected.