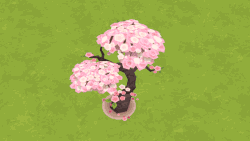 Available March 31st to April 14th, 2016. For 99 Gems.
This tree is like nothing you've seen before—it changes with the seasons! During March and April, it will be in full bloom! After that, the petals will softly fall, and then it will transform into a beautiful lush green tree, quietly waiting to bloom again next year.
Ad blocker interference detected!
Wikia is a free-to-use site that makes money from advertising. We have a modified experience for viewers using ad blockers

Wikia is not accessible if you've made further modifications. Remove the custom ad blocker rule(s) and the page will load as expected.