Collects Sea Resources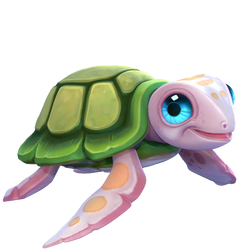 Note:

Have you seen the wonderful animals around Paradise Bay?
Keani is training them to be animal harvesters to make life easier for the islanders.
Skippy the Turtle, one of her first trainees, is the island fisherman. Keep him supplied with nets if you want plenty of seafood to trade. And you do. Trust us!
How to get
The first is unlocked at Level 1. You can get up to 6 Turtles (by Level 27), 10 if you have the 4x promotional Arctic Turtle

and 12 if you also have the 2x promotional Painted Turtle

.

Turtle
Unlock
Levels
Cost
1st
1
5
2nd
4
25
3rd
7
200
4th
11
1,500
5th
18
5,000
6th
27
15,000
7th-12th
Special Promotions
£££ or
Pearl Drop Rates
| Level 1-8 | Level 9-17 | Level 18 - 25 | Level 26-50 |
| --- | --- | --- | --- |
| 0% | 4% | 3% | 2% |
Harvestables
Resource
Level
Time
 Source
Exp
Reward
Min
Cost
Default
Cost
Max
Cost
Fish

1
2 min
Turtle
+ Net
4
8
14
28
Shrimp

5
5 min
Turtle
+ Net
4
8
14
29
Crab

11
20 min
Turtle
+ Net
5
10
16
32