Trees and Bushes Types
Normal Trees and Bushes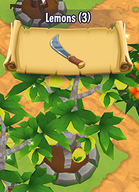 You can only place 3 normal trees or bushes per type at a time.
When trees and bushes are ready to be they will begin to sparkle. When tapped a scroll will open containing a machete. Beside the name of the plant will be a number that represents the number of harvests left before the plant will need to be replaced.
After 4 harvests the bush or tree will die and need to be replaced. A dead tree requires an Axe and a dead bush requires Shears to be removed.
Eternal Trees and Bushes
All trees have an eternal version (5,000,000 crops) but currently only Eternal Coconut, Lemon, Cacao and Blueberry trees are available. Eternal trees never die and you can combine them with normal trees for a total of 6 trees or bushes per type (3 normal + 3 Eternal).
You can purchase Eternal Trees from the Build Menu (crate tab) using
. Prices are 200, 300 then 400
.
Eternal trees and bushes are differentiated by a white stone border marked with a winged purple gem.
Extra Trees and Bushes
Trees and bushes can occasionally be rewards on your weekly Seal Dives or from other reward sources. These extra plants are stored in your build menu. They can be planted immediately and give you extra plants beyond the normal limitation of 6 trees or bushes per type (3 normal + 3 Eternal), but when they die they cannot be replanted and the limit returns to normal.
Ad blocker interference detected!
Wikia is a free-to-use site that makes money from advertising. We have a modified experience for viewers using ad blockers

Wikia is not accessible if you've made further modifications. Remove the custom ad blocker rule(s) and the page will load as expected.