TradeFest is a week long Limited Timed trading event hosted by Horatio Jasper

Next TradeFest starts June 1st at 18h BST (GMT+1)

Event Title : 'Welcome to the May TradeFest'
Win TradeFest and take home the Grand Prize : a Manta Ray


There will be an additional 8 hours to complete this TradeFest, so 7 days and 8 hours in total !

At the end of classic 7 tiers there are bonus challenges : up to 43 more tiers (500

each time) with possible rewards of Stickers, Prestige or Map Pieces !

Bonus tiers will be the only way to obtain Shelly 
stickers

Level Required to participate
You must be Level 16 or above.
Dedicated resource

 : Friendship level with Horatio Jasper
June TradeFest: The Grand Prize
June TradeFest: The 7 Tiers
Chart Goal/reward by level
Guide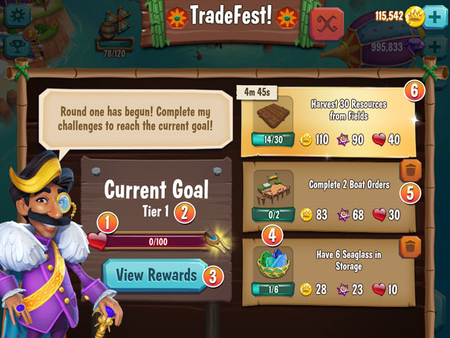 1) Complete Horatio's challenges to advance through the tiers and get the rewards he's offering. When you complete these tasks, your "Current Goal" bar will increase.
2) There are 7 total tiers to complete. With each new tier, you'll get a better reward, culminating in the Grand Prize!
3) Once you fill the Current Goal bar, tap on

to collect the prize!
You can also wait for the end of Tradefest to collect them to avoid filling the Treehouse's storage.
4) Indicates your progress on the tasks you're doing.
5) If you can't complete a task, you can choose to cancel it and exchange it for a new task. A new one will appear after 1 hour.
6) A Gold task indicates that it takes higher skill to complete. Gold tasks are timed and you can not trash them, you must wait for the timer to expire to get a new task. They give higher points and will help you fill your Current Goal bar faster!

If you complete all of Horatio's challenges to Tier 7, you will be rewarded with a super special prize!

Completing Tasks
If you see Horatio's icon, it means you have completed a task, and you can claim a reward!
Challenges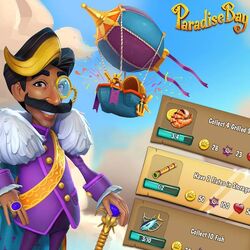 Types of Challenges
*The challenge may be: Harvest or Make/Collect a Recipe, a grayed out silhouette of the item is shown and you must identify it and complete the task.

Tip:
Have Dock and Trade Post trades ready but hold out on trading till Horatio asks for it. Also Full Inventory Stacking, can be very useful in this Event. These can give you an edge for Timed Challenges as well as making sure your trades are used to their full advantage!
Challenge Chances:
Trade Post or Dock trade 40%
Collect Resource Challenge 20%
Have in stock Challenge 20%
Timed Challenge 10%
Mystery/Riddle Challenge 10%
Note:
Cancelling a challenge is similar to Trade Post trades, you can cancel a challenge but you must wait 1 hour to get a new one (with the possibility of paying
to Rush). Except for Timed Challenges, which you must complete or wait for the timer to run out before getting a new task.
Difficulty Levels:
Types 1 to 3 Challenges have 3 levels of difficulty and are chosen at random:
Level 1 difficulty: 69%
Level 2 difficulty: 23%
Level 3 difficulty: 8%
The Type and Level are randomly selected and the resource among the 104 possible resources (limited to the resources available at your level).
Past Tradefest Rewards
2017
June 2017: Manta Ray

, Manta Rug

, Manta Kite
May 2017 : Jukebox

, Gumball Machine

, Diner's Table

April 2017 : Baby Chicks
, 6 musical eggs
March 2017 : Orange Hedgehog

, Hedge-hog

, Pot o' Goldenrod


February 2017 : Te Amos Flamingos

, Incense Vase

, Lover's Tiki

January 2017 : Kingpin Penguin

, Ice Hockey

, Chilled Penguin

2016
December 2016 : Polar Brrr
, Ice Sculpture
, Floating Frozen Fossil


November 2016 : Wild Turkey

, Cornucopia
, Turkey Kite


October 2016 : cancelled TradeFest, Panther
can be obtained at Ghost Ship Cove, and Gnome Leaf Blower

not available
September 2016 : Plaidypus

,Stuffed Platypus
, Sunflower Planter

August 2016 : Happy Hippo
, Hippo River Mouth
, Hippo River Body

, Hippo River Drain

Jully 2016 : Shark
, Rescue Ring

, Shark Sign

June 2016 : Koala

, Eucalyptus Leaf Point

, Eucalyptus Leaf Stem


May 2016 : Orca
, Seal Floaty
, Totem Poles


April 2016 : Bunny
, Carrot Patch

, Eggster Basket

March 2016 : Panda

, Zen Garden

, Zougu Fountain

Lovefest February : Lovebirds
, Beautiful Birdbath

, Passionate Planter

January 2016 : Queen Crab

2015
December 2015 : Pretty Pretty Peacock
Ad blocker interference detected!
Wikia is a free-to-use site that makes money from advertising. We have a modified experience for viewers using ad blockers

Wikia is not accessible if you've made further modifications. Remove the custom ad blocker rule(s) and the page will load as expected.