TradeFest is a Limited Timed trading event hosted by Horatio Jasper


Next TradeFest starts June 5th at 17h UTC (18h BST).

Event Title : Welcome to the June TradeFest!
Win TradeFest and take home the Grand Prize :
Kitten

TradeFest duration : 7 days and 11 hours.

At the end of 7 standard tiers there are bonus challenges : up to 43 more tiers (500

each time) with various rewards (see table below).
Bonus tiers are the main way to obtain Cuddles

stickers, although they are sometimes offered as specific tier prizes also.
Level Required to participate
You must be Level 9 or above.
June TradeFest: The Grand Prize
The Kitten

June TradeFest: The 7 Tiers
Chart Goal/reward by level
Tier n°
to obtain with Horatio
Rewards
Lvl 0-21
Lvl 22- 27
Lvl 28-33
Lvl 34-39
Lvl 40-68
Lvl 69+
Rewards
1
20
20
30
30
40
40
3x
5
2
30
40
50
70
80
80
3x Axe
10
3
60
80
100
140
160
160
1x Cardboard Box
20
4
130
160
210
270
320
320
3x Primo Pet Treats
40
5
260
320
420
540
640
640
1x Cat Toy
80
6
420
520
680
880
1040
1040
1x sticker:
99%
or <1% Silver Pet sticker
130
7
660
820
1070
1390
1640
1640
Kitten
205
8 to 50
500
see chart below
125
Karma

rewards are not currently active.

Bonus tier rewards
| Pet sticker | Chance |
| --- | --- |
| 1x | 99.99% |
| 1x of these stickers : | <1% |

IF all of the above pets are already Rank 3 then you will receive one of the current "backup" Bonus Tier rewards, which include :
Guide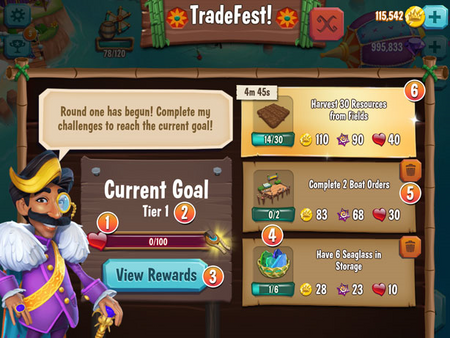 1) Complete Horatio's challenges to advance through the tiers and get the rewards he's offering. When you complete these tasks, your "Current Goal" bar will increase.
2) There are normally between 7-10 standard tiers to complete. With each new tier, you'll get a better reward, culminating in the Grand Prize! Then there are 40-43 bonus tiers with various rewards!
3) Once you fill the Current Goal bar, tap on
to collect the prize!
You can also wait for the end of Tradefest to collect them to avoid filling the Treehouse's storage.
4) Indicates your progress on the tasks you're doing.
5) If you can't complete a task, you can choose to delete/trash it and exchange it for a new task. A new task will appear after 1 hour.
6) A Gold task indicates that it takes higher skill to complete. Gold tasks are timed and you can not trash them, you must wait for the timer to expire to get a new task. They give higher points and will help you fill your Current Goal bar faster!

If you complete all of Horatio's challenges to the maximum standard Tier (7 or 10), you will be rewarded with a super special prize!

Completing Tasks
If you see Horatio's icon, it means you have completed a task, and you can claim a reward!
Challenges
Types of Challenges
*The challenge may be: Harvest or Make/Collect a Recipe, a grayed out silhouette of the item is shown and you must identify it and complete the task.

Tip:
Have Dock and Trade Post trades ready but hold out on trading until Horatio asks for it. Also Full Inventory Stacking can be very useful in this Event. These can give you an edge for Timed Challenges as well as making sure your trades are used to their full advantage!
Challenge Chances:
Trade Post or Dock trade 40%
Collect Resource Challenge 20%
Have in stock Challenge 20%
Timed Challenge 10%
Mystery/Riddle Challenge 10%
Note:
Deleting a challenge is similar to Trade Post trades; you can delete a challenge but you must wait 1 hour to get a new one (with the option of paying

to Rush). You cannot delete a Timed Challenge; you must complete it or wait for the timer to run out before getting a new task.
Difficulty Levels:
Types 1 to 3 Challenges have 3 levels of difficulty and are chosen at random:
Level 1 difficulty: 69%
Level 2 difficulty: 23%
Level 3 difficulty: 8%
The challenge type, difficulty and required resources are selected randomly (although resources are limited to those available at your current game level).
List of Resources and Silhouettes for "Mystery Item" Challenges
Past Tradefest Rewards
2018
May 2018 Retro : Blooming Cactus

, Autumn Tree

, Target Dummy

, Bountiful Barrel

, Ghoulish Gazebo

, Bat Jack O'Lantern

, 5x

, 10x

(or 10x

), 10x

(or 10x

), 10x
(or 10x

), or special "no stickers left" rewards
May 2018 : Orangutan
, Chalkboard

, Citrus Cradle

, Bronze Pet Ticket
, pet stickers
April 2018 Retro : Tiger Stripe Tree

, Orca Boat Wreck

, Beach Ball
, Dolphin Sand Sculpture

, Gnome Leaf Blower

, Spring Gnome

, 5x

, 10x

(or 10x

), 10x
(or 10x

), 10x

(or 10x

), or special "no stickers left" rewards
April 2018 : Ducklings
, Small Cat Tails
, Cat Tails
, Spring Boots

, pet stickers
March 2018 : Ermine

, Wind Chime Tree

, Ermine Kite

, Bronze Pet Ticket
, pet stickers
March 2018 Retro : Pot o' Goldenrod

, Hedge-hog

, Musical Eggs, Diner's Table

, Gumball Machine

, 10x

(or 10x

), 10x

(or 10x

), 10x

(or 10x

), or special "no stickers left" rewards
February 2018 : Sweetheart Squirrel

, Box of Peanuts

, Acorn Trophy
, pet stickers
January 2018 Retro : 2x Ice Sculpture

, Floating Frozen Fossil

, Ice Hockey

, Chilled Penguin

, Incense Vase

, Lover's Tiki

, 10x

(or 10x

), 10x

(or 10x

), 10x

(or 10x

), or special "no stickers left" rewards
January 2018 : White Tiger Cub

, Apple Barrel

, Cider Teapot

, 5x

stickers
2017
December 2017 : Arctic Fox

, Foxy Kite

, Winter Snowboard Shack


November 2017 Retro : 10x

, 10x

, 10x

or (3x15)

, Hippo River Mouth

, Hippo River Body

, Hippo River Drain

, Stuffed Platypus
, Cornucopia Decor
, Turkey Kite


November 2017 : Snowy Owl

, Snowy Owl Hammock

, Snowy Owl Totem


October 2017: Frightful Flying Fox

, Bat Jack O'Lantern

, Spider Jack O'Lantern
, Cat Jack O'Lantern

, Ghoulish Gazebo


September 2017 Retro : 10x

, 10x

, 10x

or (3x15)

, Seal Floaty

, Totem Poles

, Eucalyptus Leaf Point
, Eucalyptus Leaf Stem

, Rescue Ring

, Shark Sign


September 2017: Mountain Llama

, Bountiful Barrel

, Target Dummy


August 2017: Blue Dolphin

, Beach Ball
, Dolphin Sand Sculpture


July 2017: Tiger Shark
, Tiger Stripe Tree

, Orca Boat Wreck


Anniversary TradeFest (July 2017): Retro pet habitat decor (Beautiful Birdbath
, Passionate Planter
, Zen Garden

, Zougu Fountain

, Carrot Patch

, Eggster Basket

) and stickers for Panda

, Bunny

, Lovebirds

and/or Rooster of the Year

June 2017: Manta Ray

, Manta Rug

, Manta Kite

May 2017 : Jukebox

, Gumball Machine

, Diner's Table


April 2017 : Baby Chicks

, 6 musical eggs
March 2017 : Orange Hedgehog

, Hedge-hog

, Pot o' Goldenrod


February 2017 : Te Amos Flamingos

, Incense Vase

, Lover's Tiki


January 2017 : Kingpin Penguin

, Ice Hockey

, Chilled Penguin

2016
December 2016 : Polar Brrr

, Ice Sculpture

, Floating Frozen Fossil


November 2016 : Wild Turkey

, Cornucopia Decor
, Turkey Kite


October 2016 : cancelled TradeFest, Panther

can be obtained at Ghost Ship Cove, and Gnome Leaf Blower

not available
September 2016 : Plaidypus

,Stuffed Platypus
, Sunflower Planter

August 2016 : Happy Hippo

, Hippo River Mouth

, Hippo River Body

, Hippo River Drain


Jully 2016 : Shark

, Rescue Ring

, Shark Sign


June 2016 : Koala

, Eucalyptus Leaf Point
, Eucalyptus Leaf Stem


May 2016 : Orca

, Seal Floaty

, Totem Poles


April 2016 : Bunny

, Carrot Patch

, Eggster Basket


March 2016 : Panda

, Zen Garden

, Zougu Fountain


Lovefest February : Lovebirds

, Beautiful Birdbath
, Passionate Planter

January 2016 : Queen Crab

2015
December 2015 : Pretty Pretty Peacock