Make it a sunny day! Complete daily challenges and earn rewards!
A new mini-game is being developed!
This mini-game is currently under beta test by a group of players chosen randomly by King.
Sunshine Challenges will be similar to Horatio Jasper's demands during TradeFest. There will be 3 panels, each one giving a challenge to be completed by midnight (1800h in Paris, other times for different countries).
Each challenge is chosen at random from more than 60 possible options, divided into 3 difficulty levels - easy, medium and hard.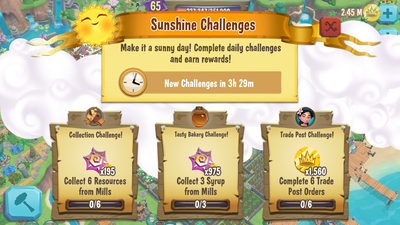 Once a challenge is completed (blue check mark) you will be able to collect the reward displayed on the panel: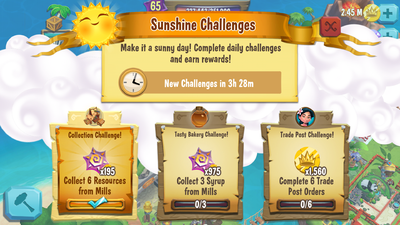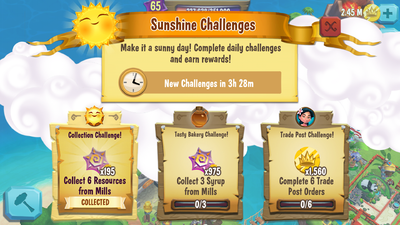 An indicator on the Level progress bar will show when challenges have been completed.
List of possible Sunshine Challenge types
Harvesting from fields
Harvesting from moles
Harvesting from sloths
Harvesting from turtles
Harvesting from otters
Collecting items from mills
Completing Boat orders
Completing Trade Post orders
Earning Tradefest experience
Placing harvesters (moles, sloths, turtles, otters)
Planting trees/bushes
Building mills
Repairing special locations (e.g. World Market, Map Table etc)
Feeding animals/pets
Tapping wildlife
Starting seal dives
Making sales at the docks
Opening caves
Expanding Treehouse or Windmill storage
Expanding Docks
Buying plots of land
Unlocking islands
Levelling Up
Shopping at the World Market?
Buying items from neighbouring islands?
Buying items at the Bazaar?
Ad blocker interference detected!
Wikia is a free-to-use site that makes money from advertising. We have a modified experience for viewers using ad blockers

Wikia is not accessible if you've made further modifications. Remove the custom ad blocker rule(s) and the page will load as expected.