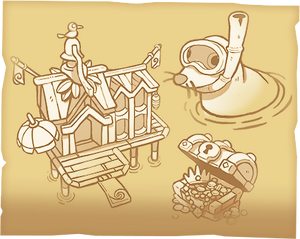 Note:
CAUTION: The 12th hours grace period is no more active!!!
The countdown timer will start as soon as the Seal icon appears!

Tip:
To avoid a dive launch at an inappropriate time here is a tip: Do not pick up the last chest of your last dive and wait at least 6 days and 20h. From there, when you can take care of your dives, get this chest and your new dives will appear immediately.... It's up to you!

Treasure Sites are a great way to earn rare items and collect special rewards using your seal divers.
Treasure Sites unlock at level 20, and are limited-time areas (16 hours) that randomly appear around your island and your friend's islands every 6 days and 20 hours after the end of previous dive (time-out or finished).



Tier
Number of

Dives

Cost
Duration
Speed up time

per helper

Total speed up time*
1
4
100
4m
30s
2m 30s
2
3
250
30m
5m
25m
3
2
500
3h
10m
50m
4
1
1500
6h
20m
1h 40m
*If you have a total of 5 helpers.
Deeper dives give better rewards. You'll be able to progress to a deeper tier when you've collected all rewards from the current tier. Deeper dives also take longer and cost more. You can use Gems to speed up or connect with Game Center and Facebook so your friends can speed up your dives! Only 5 friends can help at one time and the total time duration is 16 hours.
Helping your friends is easy and worthwhile! You'll have one seal diver for yourself and one to help others. Use your friends list to visit friends' islands and search for treasure sites. If you find one in progress, you can use your assist diver to help speed up your friend's dive!

| Helping Dives | Tier 1 | Tier 2 | Tier 3 | Tier 4 |
| --- | --- | --- | --- | --- |
| Helping Cost | 100 | 200 | 300 | 500 |
| Reward | 50, 15 , 11% chance of 1x or 44,5% of or 44,5% of clearing tools | 100, 25 , 9,8% chance of 2x or 11,8% of storage upgrade or 39,2% of clearing tools or 39,2% of | 150, 100 , 9,8% chance of 2x or 11,8% of storage upgrade or 39,2% of clearing tools or 39,2% of | 200, 200 , 17,9% chance of 3x or 10,7% of storage upgrade or 35,7% of clearing tools or 35,7% of |
Your seals live in the Seal House. Be sure to visit them here and collect the rewards you've earned for helping your friends!


Dive rewards in your Island :

Profondeur 10m :
- Pour réaliser la plongée : 25

et 1

(25%)
- En fin de plongée une de ces récompenses :

entre 125 et 200 (14,8%)

1x (11,4%)

1x (11,4%)

1x Trees and Bushes (11,4%)

1x Island unique Resource (11,4%) :

1x Axe, Sledgehammer or Shears (11,4%)

1x Upgrade Resources (11,4%) :

1x Scrap of Paper or Inked Remnants (2,3%)

1x Decoration (2,3%) :

1x Sticker (2,3%)

Profondeur 20m :
- Pour réaliser la plongée : 50

et 1 ou 2

(50%)
- En fin de plongée une de ces récompenses :

Profondeur 50m :
- Pour réaliser la plongée : 75

et de 1 à 3

(50%)
- En fin de plongée une de ces récompenses :

Profondeur 100m :
- Pour réaliser la plongée : 100

et de 1 à 4

(100%)
- En fin de plongée une de ces récompenses :


Friend assist Seal Dive rewards :

Profondeur 10m :
- Pour réaliser la plongée : 50

et 15


- En fin de plongée une de ces récompenses :

Profondeur 20m :
- Pour réaliser la plongée : 100

et 25


- En fin de plongée une de ces récompenses :

Profondeur 50m :
- Pour réaliser la plongée : 150

et 100


- En fin de plongée une de ces récompenses :

Profondeur 100m :
- Pour réaliser la plongée : 200

et 200


- En fin de plongée une de ces récompenses :