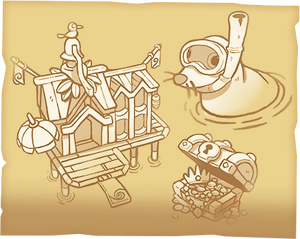 Treasure Sites are a great way to earn rare items and collect special rewards using your seal divers.
Treasure Sites unlock at level 20, and are limited-time areas (16 hours) that randomly appear around your island and your friend's islands every 6 days and 20 hours.

Tier
Number of

Dives

Cost
Duration
Speed up time

per helper

Total speed up time*
1
4
100
4m
30s
2m 30s
2
3
250
30m
5m
25m
3
2
500
3h
10m
50m
4
1
1500
6h
20m
1h 40m
*If you have a total of 5 helpers.
Deeper dives give better rewards. You'll be able to progress to a deeper tier when you've collected all rewards from the current tier. Deeper dives also take longer and cost more. You can use Gems to speed up or connect with Game Center and Facebook so your friends can speed up your dives! Only 5 friends can help at one time and the total time duration is 16 hours.
Helping your friends is easy and worthwhile! You'll have one seal diver for yourself and one to help others. Use your friends list to visit friends' islands and search for treasure sites. If you find one in progress, you can use your assist diver to help speed up your friend's dive!
| Helping Dives | Tier 1 | Tier 2 | Tier 3 | Tier 4 |
| --- | --- | --- | --- | --- |
| Helping Cost | 100 | 200 | 300 | 500 |
| Reward | 50, 15 , 11% chance of 1x or 44,5% of or 44,5% of clearing tools | 100, 25 , 9,8% chance of 2x or 11,8% of storage upgrade or 39,2% of clearing tools or 39,2% of | 150, 100 , 9,8% chance of 2x or 11,8% of storage upgrade or 39,2% of clearing tools or 39,2% of | 200, 200 , 17,9% chance of 3x or 10,7% of storage upgrade or 35,7% of clearing tools or 35,7% of |
Your seals live in the Seal House. Be sure to visit them here and collect the rewards you've earned for helping your friends!
Your seals live in the house of seals. Go visit them and collect your rewards you have earned by helping your friends!
Rewards:

Gems Axe Shears Sledgehammer Pearls Trees and Bushes Sunfish Rainbow Fruit Root Beer Golden Fleece Scrap of Paper Inked Remnants
Gear Pulley Support Beam Crates Treehouse Stilt Treehouse Stairs

Jade

Retired

This item is no longer available. It was replaced by the sticker system.

Uses

This item was previously used for purchasing pets. After the sticker system was introduced it could be used for purchasing stickers and making flowers in combination with Platinum for Bazaar Pet purchases until the supply was exhausted from your storage. Sapphire Ruby Green Dye Blue Dye
Tier 3 Only: Platinum




Tier 3 and 4 Only: Primo Pet Treats




Tier 4 Only: Map Key Red Dye Jade Flower Sapphire Flower Ruby Flower
Ad blocker interference detected!
Wikia is a free-to-use site that makes money from advertising. We have a modified experience for viewers using ad blockers

Wikia is not accessible if you've made further modifications. Remove the custom ad blocker rule(s) and the page will load as expected.