Latest wiki modifications : Golden Dolphin, Retro TradeFest, Loch Ness Monster, Guide:Pet Stickers, Pterry the Pterrible, TradePost Orders


Note:
Attention: PB are currently testing an intentional "Short Build Time" bonus feature which greatly reduces the make/grow times for almost all items. It was intended for brand new players to assist during the holiday events but has affected many different players of various game Levels. Enjoy it while you can...!

Note:
Attention: PB's testing of "Gold for Crops" is currently resulting in some players experiencing multiple switches between planting using crops and planting using gold. They are working on a resolution.
Soon (or not... ;) ) :
Underway
September 2018 :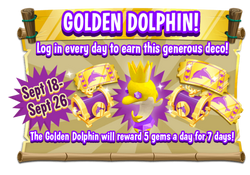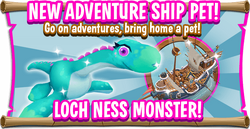 8th 17h UTC : Dino Excavation Site event! - "Fix up your Tyrannosaurus-wreck!" - earn boat parts for the "Archaeology Ark" and other prizes!
7th :

The maximum storage capacities using storage upgrade pieces have been increased :

Treehouse Storage max is now 2,530 (giving a total capacity 4,505 when combined with level up rewards of 1,975 slots)
Windmill Storage max is now 2,540 (giving a total capacity of 4,515 when combined with level up rewards of 1,975 slots)
Additional upgrades are still available as other rewards

A new relic at Relic Ruins : Pterry the Pterrible
The Mill Efficiency Meter has been activited (Beta Test)
August 2018 :
23rd : New levels 76-80 including a new mill, recipes and crop:

New mill: Paradise Pies (Level 77, for 500,000 ) - Hot and savoury pizza pies. Make Cheesy Pizza (Level 77), Pineapple Pizza ( Level 78), Meaty Pizza (Level 80), and Spicy Chili Pizza (Level 77, and Spicy Chili Pizza Recipe at the Bazaar).
New crop: Mint (Level 76)
New recipes: Harp (Level 78, Paradise Music, and Harp Recipe at the Bazaar), Knit Cap (Level 76, Happy Hatter), Mint Chocolate Chip (Level 79, Island Creamery), Wintermint Candy (Level 79, Candy Crane)
3x Field plots (Level 78)
24 new TradePost order storylines
Dyes can now be sold 5 at a time (previous max was 2)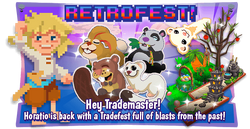 6th 17h UTC - 18th 04h UTC : Party Piñata Gathering Event!
2nd : New BYOS "Gulliboat" - available soon at the Salvage Shop
Special daily events - Start/Finish at 8h GMT
| Day | Bonus | Picture |
| --- | --- | --- |
| Monday | Double Doubloons | |
| Tuesday | More chance of stickers at Docks | |
| Wenesday | Every 30 min clean Relic Ruins Island for more rewards | |
| Thursday | More maps with Carl and more stickers with Commodore adventures | |
| Friday | 50% more progression for Mastery | |
| Saturday | 50% more | |
| Sunday | 50% more (or ) | |
Past Events
See Past Events page.
Game updates
See Game Updates page.
The most recent islands
Hickory Falls

with new character Hansel
Note
If you have any questions on how to contribute to this wiki, please contact me [1].