Welcome to Paradise Bay Fan Wiki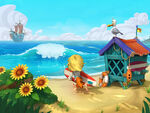 Welcome to Paradise Bay Fan Wiki Trademasters !

Last Wiki update : Currency, Storage, Autumn Tree, Characters Levels Chart, Main Island map with regions and costs (at the end of the page) Your Island
In November :
November Tradefest : the pet will be a Turkey

The Black Panther is available for 20 doubloons at GhostShip Tradepost


What's happened in October (Halloween)
Storages upgrade you can now stock 700 (+20 by special dive) on each storage
new decorations : the Autumn Tree (released Oct, 30), a spooky tree, a pumpkin pet, a Frankenstein Tiki, a Ghost Scarecrow....


Relic Island :
Grab the thirty shards for the Jacal Vault, see here : Relic Ruins



Next Tradefest pets :
December : Polar Bear or Red Panda
January : Penguin
February : Flamingo

In the futur :

a new rank system on Mills the Mastery Mode see here Mastery Mode

a promotional turtle : Painted Turtle

the next Relic at Relic Ruins : a another dinosaurus :







A Promo pet unlockable at Pet Sanctuary :
after the Golden Tiger

,
the Giraffe

Next at the Pet Sanctuary :
Hedgehog

, Giant Clam


As lack of time for me and with no admin (a person who know well Wikia structure and usage) for the english part (thanks a lot for people doing spelling/typing corrections !), this wiki will not be updated often, latest news must be taken from french part : http://fr.paradisebay.wikia.com/wiki/Wikia_La_Baie_du_Paradis
sorry for inconvenience

Other King.com Games
Active Saga games:

Active games:

Retired games:

Bubble Saga
Hoop De Loop Saga

King Gold Games
Mahjong Saga
Ad blocker interference detected!
Wikia is a free-to-use site that makes money from advertising. We have a modified experience for viewers using ad blockers

Wikia is not accessible if you've made further modifications. Remove the custom ad blocker rule(s) and the page will load as expected.