From version 2.2 of the game, an addition to the
mills
brings various manufacturing bonuses to each: Gold Bonus, XP Boost, Double Up and Speed Boost
How does it work?
The manufacturing time of everything you make at each mill is accumulated (as you
collect
each item). When you reach a certain amount of time you will upgrade to the next rank and receive a rank bonus reward for that mill. The more items you make the faster you will upgrade. There are 3 ranks for each mill and the bonuses received depend on the mill.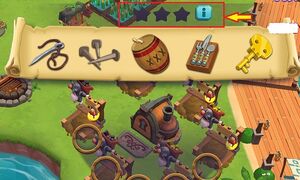 A small banner appears above the list of recipes with 3 stars corresponding to the 3 rank of the mill and an information button

that opens a details pane on the "mastery" of the mill.

Note: The information button also appears on each mill in the build menu bar.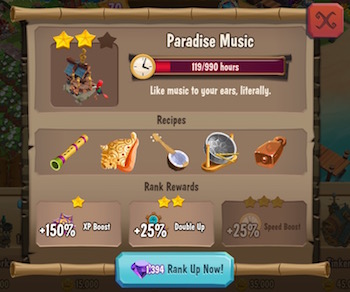 This panel shows how much time you have accumulated towards the next mastery level (rank).



Next is a list of the items that can be made at the mill.

Then the mill rank reward/bonuses are shown. The rewards are "greyed out" until you reach the required rank; when you receive one it lights up with the mastery stars shown just above.
Finally the blue button shows the cost in

to "rush" to the next mastery level immediately.
The Rank Rewards/Bonuses
There are 4 bonus types :
Mill Rank Rewards and Times
Mill
Rank
1
2
3
Cumulative time manufacturing
to reach the rank
Bonus obtained

Art Supply

50h
300h
900h
Gold Bonus
25% Double Up
25% Speed Boost

Tasty Bakery

55h
330h
990h
150% XP Boost
25% Double Up
25% Speed Boost

Sita's Spa

40h
240h
720h
Gold Bonus
25% Double Up
25% Speed Boost

Island Outfitters

42h
252h
756h
150% XP Boost
25% Double Up
25% Speed Boost

Arr'Bucks

35h
210h
630h
Gold Bonus
25% Double Up
25% Speed Boost

Diner

30h
180h
540
Gold Bonus
25% Double Up
25% Speed Boost

Dive Shop

55h
330h
990h
150% XP Boost
25% Double Up
25% Speed Boost

Brilliant Blossoms

55h
330h
990h
150% XP Boost
25% Double Up
25% Speed Boost

Glassworks

42h
252h
756h
150% XP Boost
25% Double Up
25% Speed Boost

The Happy Hatter

50h
300h
900h
Gold Bonus
25% Double Up
25% Speed Boost

Island Creamery

35h
210h
630h
Gold Bonus
25% Double Up
25% Speed Boost

Paradise Music

55h
330h
990h
150% XP Boost
25% Double Up
25% Speed Boost

Jeweller

70h
420h
1260h
150% XP Boost
25% Double Up
25% Speed Boost

Tiki Bar

30h
180h
540h
Gold Bonus
25% Double Up
25% Speed Boost

Weaver

15h
90h
270h
Gold Bonus
25% Double Up
25% Speed Boost

Grill

40h
240h
720h
Gold Bonus
25% Double Up
25% Speed Boost

Blacksmith

70h
420h
1260h
Gold Bonus
25% Double Up
25% Speed Boost

Soup Pot

44h
264h
792h
150% XP Boost
25% Double Up
25% Speed Boost

Sushi Bar

30h
180h
540h
Gold Bonus
25% Double Up
25% Speed Boost
Tinker
70h
420h
1260h
150% XP Boost
25% Double Up
25% Speed Boost

Island Workshop

1h
55h
165h
Gold Bonus
25% Double Up
25% Speed Boost

Woodshop

30h
180h
540h
Gold Bonus
25% Double Up
25% Speed Boost

Spinning Yarns

40h
240h
720h
Gold Bonus
25% Double Up
25% Speed Boost

Sweet Jams

42h
252h
756h
150% XP Boost
25% Double Up
25% Speed Boost

Kibble Cafe

70h
420h
1260h
Gold Bonus
25% Double Up
25% Speed Boost