Explore the world around you! Collect Map Pieces and use the Map Table to discover new and exotic locations with exclusive goods not found anywhere else.
Unlocking the Map Table
Use the Map Table and collect Map Pieces to discover new and exotic locations, with exclusive goods not found anywhere else!
The Map Table can be found in the area right above the Treehouse Storage. You'll need to reach Level 17 before you can clear the land and repair the Map Table for use!
Map Pieces
Map Pieces:

Scrap of Paper
,

Inked Remnants
,

Map Key
and
Secret Passage
.
Map pieces are a special trade reward given by

Carl the Cartographer. They can also be collected from seal dives, as a possible reward for a Wish of Exploration at Wishing Wellspring Island, from Pet Feedings, chests or sales in the World Market.
Scrap of Paper is offered in trade for Windmill or Treehouse Expansion Materials at Great Crate Islet, Steppin' Stairs Islet, Perfect Pulley Islet, or Windy Windmill Islet once you reach the sufficient relationship level.
Inked Remnants, Map Key and Secret Passage are offered in trade at Carl's Cabin. Secret Passage is ONLY available with this method.
Collecting Map Pieces will allow you to unlock new locations on your Map Table!
Using the Map Table
Use the Map Table

or Map button

to view your Map.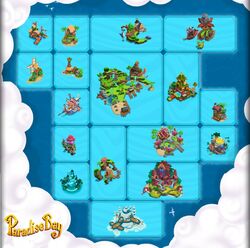 Tap the islands on your map to unlock and visit!

Trade with islanders to unlock their rare goods!
Every new character has plenty of goods to buy and sell, so be sure to visit and trade with islanders as often as you can!
Once your relationship with an islander reaches level 5, you'll unlock their rare item. You'll always be able to trade for this unique item, so come back whenever you're in need!

Neighbourg islands :
  Island
 Access Level 
  
  
  
  
 Relation max rewards 
 Unique Items 
 Angler Island

3
1
Golden White Pelican
Sunfish
 Isle of the Giving Tree

10
6
2
1
Gems
 Chameleon Cove

12
6
2
Rainbow Chameleon 
Rainbow Fruit 
 Dreadbird's Fort

18
3
2
1
Barrel Shark
Root Beer Black Powder
 Carl's Cabin

18
1
1
1
Astrolabe
Scrap of Paper Inked Remnants Map Key Secret Passage
 Adventuring Ship

23
-
-
-
-
Stickers
 Steppin' Stairs Islet

22
1
Not-a-Pocket Watch
Crates Treehouse Stilt Treehouse Stairs
 Great Crate Islet

22
1
Merry-Go-Round
Crates Treehouse Stairs Waterwheel Paddle
 Perfect Pulley Islet

22
1
1
1
Floating Crane
Pulley Gear Support Beam
 Windy Windmill Islet

22
1
1
1
Wind Turbine
Support Beam Windmill Blade Pulley
 Style Isle

24
1
3
1
Mannequin
Golden Fleece Green Dye Blue Dye Red Dye
 Relic Ruins

25
1
Relic Key


Relic Guardian
Dinosaurus Rex
Vault of the Jackal
Dinosaurus Next
Relic Archer
Well of the Cobra

 Ghost Ship Cove

26
3
2
1
Ghost Cannon
Ghost Doubloon


Eternal Ghost Chest
Book of Secrets
Stickers
Stickers

 Shoyu Island

28
2
2
2
Yuujou Bridge
Twilight Roll
 Penguin Island

30
3
3
2
Penguin-scope
Arctic Ice
 Wishing Wellspring Island

31
1
2
3
Jade Token
Sapphire Token
Ruby Token
Exploring New Trade Islands
Trade Islands have their own Trade Posts orders for you to browse, so be sure to visit as often as you can!
At these islands, you can build relationships with characters to earn rare resources and exclusive decorations for your island. Except Relic Ruins that only a place for a mini-game who rewards you with exclusive decorations.
Rare Resources
Some Trade Islands have a unique resource which is only obtained from that island! Once your relationship with a character reaches Level 5, you'll unlock a third slot on that character's Trade Post where you can purchase these unique resources and sell them to merchants at your own island.
Unique Items:

Sunfish,

Rainbow Fruit,

Root Beer,

Golden Fleece,

Twilight Roll, Secret Passage, and Arctic Ice.
Unique Resources
Most islands introduce a specific animal or decoration. As soon as your relationship with the owner of the island reaches its maximum level (10, except for Carl whose maximum is 5), the object is unlocked, then touch the object to place it in your stock of decorations.

Sunfish


Rainbow Fruit


Root Beer

Golden Fleece


Twilight Roll


Arctic Ice


Bronze sticker chest


One exception Carl's Cabin whatever your relation with Carl you can obtain Secret Passage

for 4x Map Key

Unique Decorations
Most islands introduce an exclusive pet or decoration you can only find there! Once your relationship with an islander reaches level 10, tap the item to move it to your Decorations menu. If you'd rather not wait, it's always possible to purchase the pet or item using Gems. Pets : Golden White Pelican
, Rainbow Chameleon

, Tortoise Oasis


Decorations :Barrel Shark

, Mannequin

, Yuujou Bridge

, Astrolabe

, Penguin-scope

, Phantom Parrot

, Ghost Cannon

, Merry-Go-Round
, Not-a-Pocket Watch
, Floating Crane
, Wind Turbine

Trivia
Nigel is the name of the seagull at the Map Table!
Ad blocker interference detected!
Wikia is a free-to-use site that makes money from advertising. We have a modified experience for viewers using ad blockers

Wikia is not accessible if you've made further modifications. Remove the custom ad blocker rule(s) and the page will load as expected.