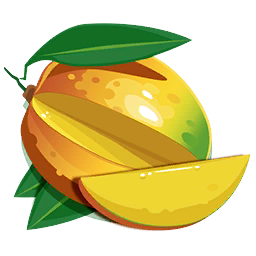 How to get
This crop is unlocked at Level 46.
It can be harvested from a Mango Tree

.

Production
Time between harvests : 24 hours
Quantity harvested each time : 3




Used to make
 Recipe 
 Time 
 Ingredients 
Paint Palette

1h
2x Mango 


2x Blueberries 
2x Pomegranate 
1x Board 

Tapestry

2 h
6x Cotton 


1x Blueberries 
1x Mango 
1x Pomegranate 

Taste of Paradise

20m
2x Pineapple 


1x Blueberries 
2x Mango 

Mango Crepes

15 min
1x Wheat


1x Mango
1x Sugar Cane

Fish Taco

30 min
1x Fish 

Chili Mango Marmalade

1h30
1x Chili Pepper 


2x Sugar Cane 
2x Mango 

Gummy Fruits

20 min
1x Mango 


1x Blueberries 
1x Pomegranate 
1x Grapes 
 

Crops

On Fields
On Trees/Bushes
Trees
Bushes
Ad blocker interference detected!
Wikia is a free-to-use site that makes money from advertising. We have a modified experience for viewers using ad blockers

Wikia is not accessible if you've made further modifications. Remove the custom ad blocker rule(s) and the page will load as expected.