Delicious foods for all your furry, and not so furry, friends.
Obtain delicious pet treats for you and your friends.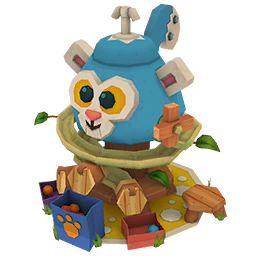 Kibble Cafe is a Mill unlocked at Level 9 and that costs (Max 5x Mills) from 2nd : 50, 150, 250, 500
, 1st one 500



Construction time : From 2nd : 5 min, 1st one : 1 hours.



What can be made with
  Recipe
 Level 
 Time 
  Ingredients 
 Exp
Reward 
 Min
Cost 
 Default
Cost 
 Max
Cost 
 Friendly Treat

9
12h
50
27
not saleable
 
 Simple Snack

9
30 mn
50
3
not saleable
 
 Tasty Treat

9
30 min
500
3
not saleable
 
The Tasty Treat is not activated yet; it will be unlocked for an event.
The Friendly Treat is specifically made to give to your friends' pets to help them level-up.


Ad blocker interference detected!
Wikia is a free-to-use site that makes money from advertising. We have a modified experience for viewers using ad blockers

Wikia is not accessible if you've made further modifications. Remove the custom ad blocker rule(s) and the page will load as expected.