Grand Pumpkin
This pumpkin may not start grand. But if you treat it right it'll be one Grand Pumpkin.

Legend says that every year around All Hallows Eve, one lucky person finds the Grand Pumpkin..! This is the Halloween 2016 special event. You will need to collect pumpkins then make special Halloween items to feed to the Grand Pumpkin to help it grow .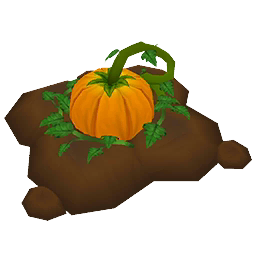 How to get
The Grand Pumpkin is available from Oct 14th 2016.

Levelling Up and Rewards
To level up your Pumpkin you must "feed" it with its favourite pumpkin treats. The items are obtained from your mills using special limited time recipes :



The make times and heart rewards for these items are shown below :


Each time you feed your Pumpkin you will receive

and

rewards.
The first 6 times you level up your Pumpkin you will receive various rewards and decorations (see below).
Relationship Levels
Level
for next Level
Rewards
Decor
1
150
2x Grilled Pumpkin
3x Pumpkin
Grand Pumpkin
2
1,500
1x Pumpkin Latte
5x Frightful Fence
Gruesome Gate
3
4,500
1x Pumpkin Latte
3x Spooky Ghost Scarecrow
4
9,000
2x Pumpkin Pie
1x Pumpkin Soup
2x Franken-stone Monster
5
10,000
1x Pumpkin Arrangement
1x Spooky Tree
6
2,500
2x Pumpkin Arrangement
5x
7
2,500
8
2,500
9
2,500
10
2,500
11
2,500
12
2,500
13
2,500
14
2,500
15
max level
After the Event
Your Grand Pumpkin will remain in place after the event ends.
You can feed your Grand Pumpkin with Coffee

to obtain rewards (which will depend on the relationship level reached at the end of the event).
The waiting time before being able to feed again is also dependent on the relationship level reached at the end of the event :
| Finish Level | Waiting Time |
| --- | --- |
| 1 | 3 days |
| 2 | 2 1/2 days |
| 3 | 2 days |
| 4 | 1 1/2 days |
| 5 | 1 day |
| 6 | 12 hours |
| 7 to 15 | 10 hours |
See also
Frightful Fence

, Gruesome Gate
, Spooky Ghost Scarecrow
, Franken-stone Monster

, Spooky Tree