A purr-fect pet companion.
The purrrfect pet!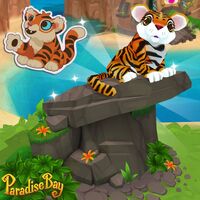 How to get
Only available at Pet Sanctuary for 15 stickers

Info
First appear on July 2016 as promotionnal pet with no direct purchase only with stickers.
Pet feeding, rewards, level...
You can feed this pet with 1xCoconut Milk

or a Primo Pet Treats

.
Possible rewards
In addition with pet's specific rank reward, see here : Pet reward chart

See here Pets and here Pet Sanctuary for all info on nap time, feeding, rewards and more.

 

Pets

Bronze
Silver

Pretty Pretty Peacock Queen Crab Lovebirds Panda Bunny Orca Koala Shark Happy Hippo Plaidypus Orange Hedgehog
Wild Turkey Polar Brrr Kingpin Penguin Te Amos Flamingos Shelly

Baby Chicks Manta Ray Tiger Shark Blue Dolphin Mountain Llama Frightful Flying Fox Snowy Owl Cuddles Arctic Fox White Tiger Cub Sweetheart Squirrel Ermine Ducklings Hummingbirds Orangutan Kitten Beached Beaver

Gold