How to get
After you unlock Dreadbird's Fort and have level 5 relationship with Dreadbird, you have a chance at purchasing black powder instead of

Root Beer. Also, Dreadbird occasionally offers this item on his Dock Trades.
Feeding pets and chests, especially Dreadbird's Fort daily chest, also can drop Black Powder. It can sometimes be traded for at Steppin' Stairs Islet, Great Crate Islet, Perfect Pulley Islet and Windy Windmill Islet once the sufficient relationship level has been reached to open the third trade slot. It can also be awarded from seal dives and purchased at the World Market.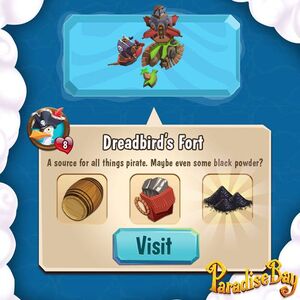 Drop Rates
Used to make
 Recipe 
 Time 
 Ingredients 
Powder Keg

12 h
3x Thread 


1x Black Powder 
1x Barrel 
Ad blocker interference detected!
Wikia is a free-to-use site that makes money from advertising. We have a modified experience for viewers using ad blockers

Wikia is not accessible if you've made further modifications. Remove the custom ad blocker rule(s) and the page will load as expected.