Description
Visit the Bazaar to purchase new recipes, pets, rare items, and exclusive decorations! The Islanders will offer many recipes and special items as you build your relationships by trading with them.
The Bazaar is the purple tent located on the small plateau just above Wesley's Exports. You'll need to reach Level 15 before you can clear the land leading to it and fully repair the Bazaar for use.

Recipes
Recipes let you make new items, which are important to creating more complex goods to trade! These recipes unlock as your relationships progress.

To purchase a new recipe, visit the Bazaar and tap an unlocked recipe. If you have the resources needed to purchase the recipe, tap the

button to complete the purchase.


Tip:
Save at least 1 Pearl for the first Bazaar Recipe, even if you have not yet unlocked the Bazaar.
Guide
1) This recipe is unlocked and ready to purchase when you have the required resources.
2) This recipe is unlocked but requires that you build a specific mill before you can purchase it.
3) This recipe will unlock when your relationship with the character shown has progressed to the required level.
Bazaar Recipes
Bazaar Items
There are several items of decor that are available only through the Bazaar. They cost Pearls or combinations of Dyes.

  Bazaar Item
 Pearl 
 Dyes 
  
  
 Social Currency 
 Jungle Tree

1
 Boat Planter

1
 Wood Bench

2
 Sand Castle

3
 Spiked Tree

4
 Floating Toy Turtle

3
 Wood Lamp

3 1
 Tiki Statue

6 3
 Anchor

3 1
 Puffer Fish

6 3
 Volcanic Geyser

3
 Bamboo Well

3 2 1
 Axe

100
 Shears

100
 Sledgehammer

100
 Sturdy Craft

75
 Campfire

75
 Wave Cut Out

3
 Frightful Fence

5x
or 3x
or 1x



Karma Tab
Spending Karma

points at the Bazaar allows you to buy Axe

, Shears

and Sledgehammer

.
Sometimes, you may also buy a special chest with Pet Sticker and tools, usually during special events.
Prestige Tab
Prestige Stars

allow you to buy exclusive Decor, and extra Trees and Bushes.
Events Tab
During Special Events (such as the Summer Sandcastle, or the Grand Egg Basket events) special decor may be available at the Bazaar for varying amounts of event currency. These are Limited Edition items that become unavailable after you have spend all the specific event currency associated. You may also buy Stickers Chest with associated social currency
Past Events Decors
Halloween Event Decor
October 20th to November 2nd 2015
Limited Edition Halloween Items

5

20

25

100

100

300

300

500
Holiday Event Decor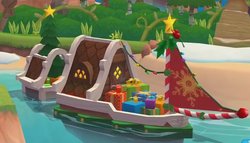 Winter Decor Event December 18, 2015 to January 6, 2016
Limited Edition Holiday Items

1

5

10

10

15

15

30

60

60

80

100

100

250

500
Ad blocker interference detected!
Wikia is a free-to-use site that makes money from advertising. We have a modified experience for viewers using ad blockers

Wikia is not accessible if you've made further modifications. Remove the custom ad blocker rule(s) and the page will load as expected.