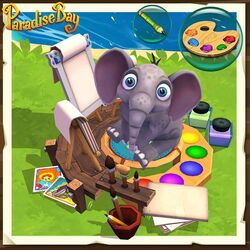 Makes Art Supplies.
Rama the elephant is ready to meet all your art supply needs !
Art Supply is a Mill unlocked at Level 47 and that costs 175,000


Construction time : 24 hours.

Bazaar Recipes for this Mill

Canvas Recipe
Items that can be made
Ad blocker interference detected!
Wikia is a free-to-use site that makes money from advertising. We have a modified experience for viewers using ad blockers

Wikia is not accessible if you've made further modifications. Remove the custom ad blocker rule(s) and the page will load as expected.