Collects Sea Resources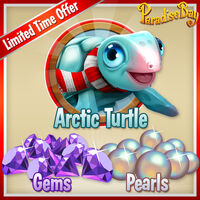 How to get
Available December 24th, 2015 for a Limited Time in a

and

bundle.
Prices, Gem amount, Pearl amount and Time varies from player to player. Price range is from $4.99-$29.99.
Adds +1 to your Turtle count (you can get up to 7 Turtles with this Arctic Turtle, up to 8 with the Painted Turtle).


Note:
See also
Ad blocker interference detected!
Wikia is a free-to-use site that makes money from advertising. We have a modified experience for viewers using ad blockers

Wikia is not accessible if you've made further modifications. Remove the custom ad blocker rule(s) and the page will load as expected.