Collects Sea Resources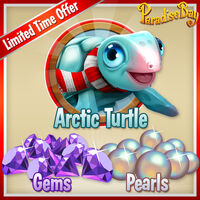 How to get
Originally available from December 24th, 2015 for a Limited Time in a

and

bundle.
Available during the July/August 2017 Retro Month 2017 Promo for 350x

.
Also available during a Nov/Dec 2017 Promo for 350x

.
Prices, Gem amount, Pearl amount and Time varies from player to player. Price range is from $4.99-$29.99.

Info
Adds +1 to your Turtle count. You can have a maximum of 3x Arctic Turtles.
You can get up to 10 Turtles altogether including 3x Arctic Turtle and 1x Painted Turtle.
See also