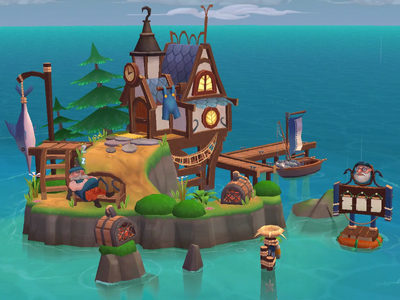 A great place to catch some fish - or some Zs.
Relationship Rewards

This island yields specifically

Sunfish
every 8 hours once you have reached level 5 relationship with
George
and once you have reached level 9 relationship with George

Sunfish
x2.
Max Relationship Reward

At level 10 relationship with George you get the
Golden White Pelican
, it is a
Pet
that does an animation when you tap it that can be feed.
Selling
Whatever level of relationship with George, he sells every hour a variable amount of:
2 - 10

Fish
2 - 3

Coconut
3 - 10

Shrimp
3 - 9

Crab
Buying
Every hour also, George offers to buy a variable amount of:
1 - 21

Cotton
2 - 5

Grilled Pineapple
2 - 12

Board
2 - 8

Crab Stew
Gallery
Ad blocker interference detected!
Wikia is a free-to-use site that makes money from advertising. We have a modified experience for viewers using ad blockers

Wikia is not accessible if you've made further modifications. Remove the custom ad blocker rule(s) and the page will load as expected.