Win

and follow your progress on the Achievements Board

.
To see your achievements, tap the Achievements button

at the top left of the game screen. The board displays completed achievements and ongoing goals based on your progress in the game.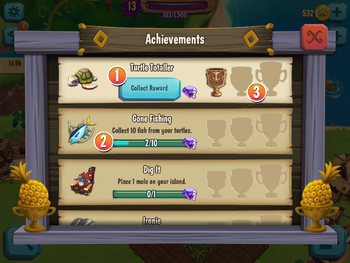 1) Collect reward - Claim

for completed achievements!
2) Requirements - Displays the requirements for this achievement.
3) Trophies - Each achievement has 3 tiers: earn Bronze
, Silver

and Gold
trophies.

Achievement
Quantity
Reward
Dig It
Place XX Moles on your island
1
2
3
4
5
6
Silver Lining
Collect XX Silver Ore from moles
5
2
50
4
500
6
Going for Gold
Collect XX Gold Ore from moles
5
2
35
4
350
6
It's a Zoo
Place XX pet habitats on your island
2
2
4
10
10
20
Otter Way Around
Place XX Otters on your island
1
2
2
4
4
6
Exterior Decorator
Spend XX on decorating your island
250
2
10 000
4
50 000
6
Ironie
Collect XX Iron Ore from moles
5
2
100
4
1000
6
Thanks a Latte!
Brew XX lattes at Arr'Bucks
15
2
300
4
4500
6
Bazaar Habit
Make XX purchases at the Bazaar
3
2
12
4
50
6
Got Glass!
Collect XX Seaglass from otters
10
2
250
4
3000
6
Turtle Totaller
Place XX Turtles on your island
2
2
4
4
6
6
Harvester
Harvest XX crops from fields
50
2
500
4
15 000
6
The Marketeer
Make XX sales at Wesley's Exports
10
2
250
4
3 000
6
Plotting Away
Place XX fields on your island
15
2
30
4
50
6
Gone Fishing
Collect XX Fish from turtles
10
2
250
4
3000
6
Get Your Grove On
Have XX live trees and bushes on your island at the same time
5
2
15
4
24
6
Boss Builder
Place XX Mills on your island
6
2
12
4
19
6
Slow Down
Place XX Sloths on your island
1
2
2
4
3
6
Ship Shape
Unlock the 2nd, 3rd and 4th dock
2
2
3
4
4
6
Clearance Sale
Use XX clearing tools
10
2
50
4
500
6
Mass Producer
Collect XX items from mills
30
2
300
4
6000
6
Tap O' The Mornin'
Tap XX wildlife
100
2
1000
4
5000
6
Order Up!
Complete XX trades at the Trade Post
8
2
300
4
2500
6
Captain of Industry
Complete XX Dock trades
12
2
500
4
4000
6